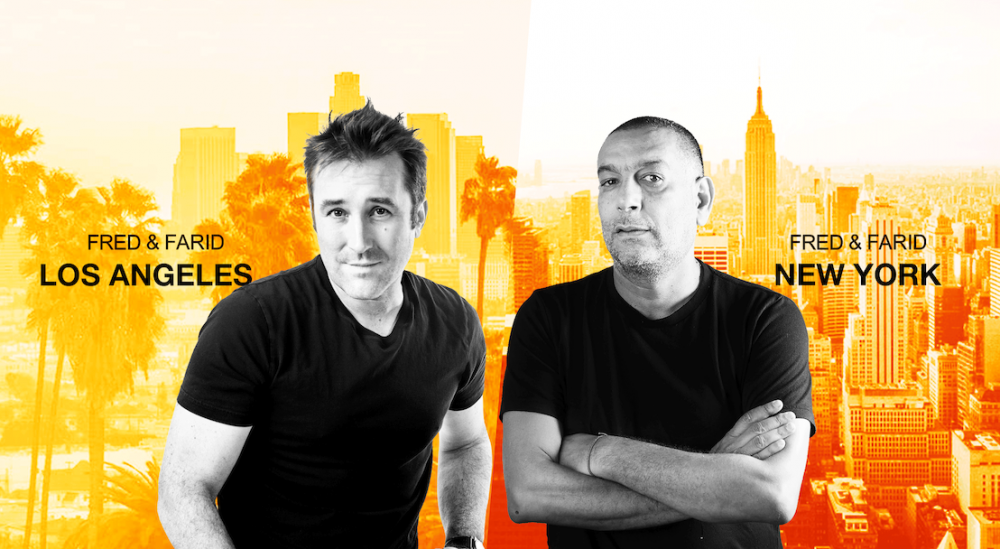 Le réseau indépendant fondé à Paris en 2007 par Frédéric Raillard et Farid Mokart a 10 ans, et signe une nouvelle étape de son internationalisation.
Fred Raillard, qui vivait à Shanghai depuis 2012, quitte la Chine pour venir s'installer à Los Angeles avec sa famille, tout en gardant un pied en Asie. Il supervisera le Pacifique (les 2 agences de Los Angeles et Shanghai). Farid installé à New York depuis un an continuera à superviser l'Atlantique (à savoir les 2 agences Paris et New York) et partager son temps entre les deux villes. Fred Raillard et Farid Mokart, qui ne seront plus qu'à 3 heures de décalage horaire, superviseront ensemble le réseau et son développement international en continuant de créer des ponts et des synergies entre leurs 4 agences.
Après l'ouverture en Asie de FRED & FARID Shanghai en 2012, devenue agence de référence en Chine (Ad Age International Agency of the Year, 3 fois "Independent Agency of the Year" aux Spikes Asia) et adoubée par la Tech chinoise (Vivo, Tmall, Eleme, Tao Bao, YouKu)… le groupe s'exporte aux États-Unis en 2016 en lançant FRED & FARID New York. En une année l'agence américaine remporte des budgets structurants, devient "agence lead" de marques globales comme HP (sur notamment les budgets diversité, consumer printing, supplies and graphics) Louis XIII/Rémy Martin, collabore avec des marques internationales comme Air France USA, Marriott Group ou 24 Sèvres (LVMH), multiplie les collaborations artistiques avec des artistes internationaux (Major Lazer, John Malkovich, Robert Rodriguez) et gagne des prix prestigieux à Cannes, aux Clio Awards et au One Show. L'agence New Yorkaise est choisie en août 2017 par Google pour l'accompagner dans le cadre du lancement international de Android Oreo.
FRED & FARID choisit aujourd'hui d'écrire un nouveau chapitre de son histoire américaine en s'installant à Los Angeles pour accélérer cette dynamique. Ville effervescente où le monde du digital rencontre aujourd'hui celui de Hollywood. Épicentre de la création contemporaine mondiale, la Mégapole californienne est la 2e plus rapide communauté Tech américaine, avec sa "Silicon Beach" où l'on retrouve Buzzfeed, Vice, Snapchat, Facebook, Google, une explosion de nouvelles startups et des personnalités inspirantes comme Elon Musk…
"Cette ouverture à Los Angeles est pour nous une évidence. Los Angeles est une ville pleine de talents et de diversité. Son écosystème digital est en plein essor. Nous serons au plus près des dernières innovations Tech et des nouvelles tendances de l'entertainment. C'est la ville de Tesla et SpaceX. Los Angeles s'est toujours développée sur l'idée d'un mouvement continu vers le futur." déclarent Fred Raillard et Farid Mokart, Président Fondateurs de FRED & FARID.
Avec l'accélération de son développement au États-Unis, le groupe indépendant poursuit son objectif d'accompagner et de faire rayonner les marques françaises à l'international. Cette démarche au cœur de la stratégie du groupe est, selon les deux créatifs, galvanisée par le contexte favorable aux entrepreneurs français de l'étranger suite à l'élection d'Emmanuel Macron. Fred & Farid accueillent aussi avec enthousiasme les premières annonces d'Édouard Philippe.
"Il semblerait que la France sorte enfin d'un long cauchemar dans lequel les entrepreneurs se faisaient castrer par le système.", Fred & Farid.
"Il se passe quelque chose en France. Il y a un momentum. Partout, il y a des hommes et des femmes qui veulent faire et gagner à l'échelle du monde", Emmanuel Macron.
"Je veux que la France réussisse et nous sommes au pied du mur. Il y a eu le déclic de l'élection de Macron", Pierre Gattaz.
Avec un axe fort Los Angeles-New York, une connaissance aiguisée du marché chinois, une présence forte en Europe, une vraie agilité contrairement aux vieux réseaux, FRED & FARID est capable aujourd'hui de gérer des marques à un niveau mondial telles que HP, Club Med, Audemars Piguet ou Caudalie.
"Le regard sur la France dans le monde est en train de changer, un vent d'enthousiasme souffle chez les entrepreneurs français depuis mai 2017. Nous voulons participer à faire rayonner la marque France en aidant les marques françaises à se développer à l'international.", déclarent Fred & Farid.