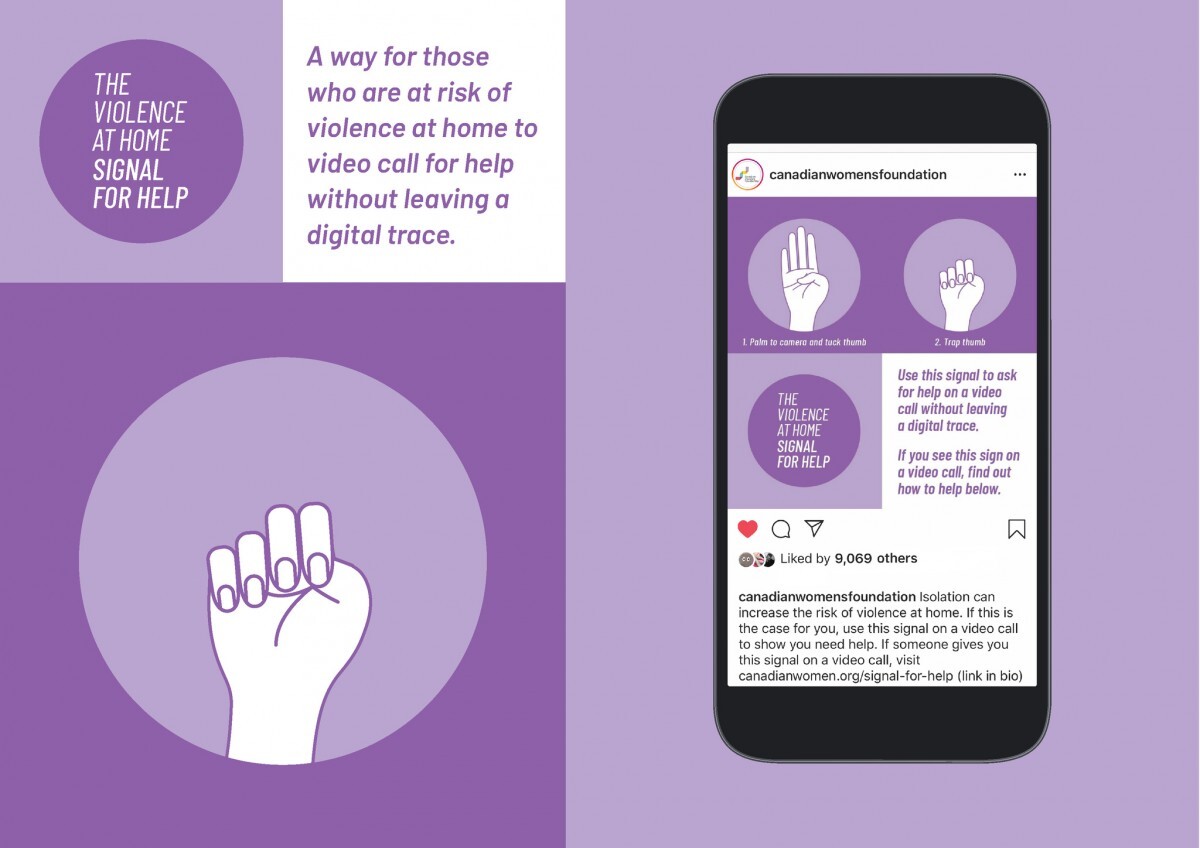 The Canadian Women's Foundation and Women's Funding Network have proudly launched Signal for Help in Canada and the US, to help combat the increase of gender-based violence as a result of home isolation. Signal for Help is an online initiative and tool designed to provide women who are confined to their homes with their abusers a method to discreetly communicate over any video call that they need help.
The signal is a simple single-handed gesture that symbolically entraps the thumb in the palm and provides those at risk with a discreet way to let family, friends, and colleagues know that they need help. It was intentionally designed as a continuous hand movement that could be made easily visible on a video call - due to the dramatic increase in usage of personal and professional video calls during this time.
Instructional social posts were designed with a two-step visualization of how to perform the Signal for Help. The assets are available in English, French, and Spanish at canadianwomen.org/signal-for-help/ in Canada, and womensfundingnetwork.org/signalforhelp/ in the US. They can be easily downloaded by organizations and individuals to share.
On the 14th of April, a single Signal for Help post from The Canadian Women's Foundation instantly went viral across their Instagram, Facebook, and Twitter channels. Notable figures from all walks of society and culture shared the Signal for Help including: acclaimed author Margaret Atwood, actress Amybeth McNulty, former Canadian hockey star Cassie Campbell, and Federal Minister Maryam Monsef. This sparked more awareness and sharing in the days following launch.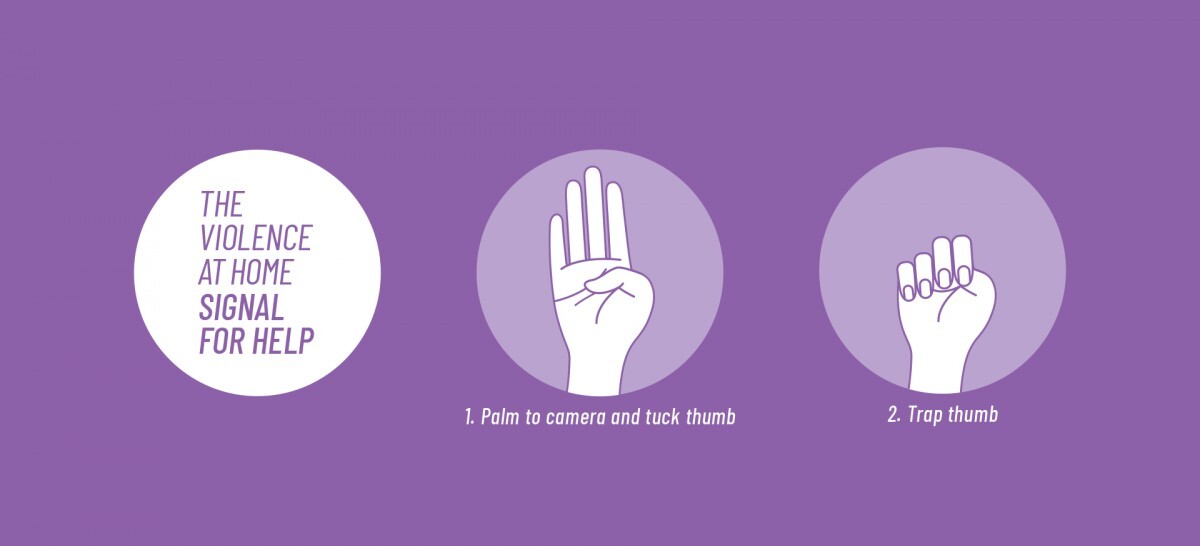 "Public health directives on home isolation compound the danger for those living in abusive situations, and abusers may monitor their devices to ensure that what is going on inside the home is not shared," said Paulette Senior, President and CEO of the Canadian Women's Foundation. "This new reality requires new methods of communication to help those facing gender-based violence. We know that internet and video calling are not readily accessible to some. Shelters and support services are doing everything they can to respond to the surge in violence. Signal for Help seeks to contribute to these efforts."
The Canadian Women's Foundation decided not to take proprietary ownership over Signal for Help because they wanted to make it feel like it belonged to everyone, allowing like-minded organizations around the world to adapt it to fit their own community and audience.
The Women's Funding Network is one of those organizations and launched the initiative in the US this week. It was instantly covered by Vogue and shared across their channels, with support service groups and individuals - including Amanda Seyfried - across the country rallying behind the cause too. There are plans to launch Signal for Help in France, Spain, and Australia in the coming weeks.
Signal for Help was ideated by global Toronto-based creative agency, Juniper Park\TBWA, who worked with the Canadian Women's Foundation and Women's Funding Network to launch the initiative in their respective regions.
"I believe that creativity is at its best when it's a force for good. We are proud to play our part." says Graham Lang, Chief Creative Officer at Juniper Park\TBWA.
To learn more about what you can do if you see someone use the signal please, or to share the signal, visit: canadianwomen.org/signal-for-help/ in Canada or womensfundingnetwork.org/signalforhelp/ in the US.