The National Center for Missing & Exploited Children (NCMEC) and advertising agency M/H VCCP announce the launch of Runaway Train 25, a cross-industry initiative to reinvent the search for missing children with the release of a new music video. The video reinterprets the award-winning Soul Asylum song "Runaway Train" with musical artists Jamie N Commons and Skylar Grey featuring Gallant.
In the 1990s, the original "Runaway Train" video by Soul Asylum, NCMEC and director Tony Kaye featured 36 missing kids. After it aired on MTV, 21 of those missing kids were recovered. Runaway Train 25 is directed by RSA Film's Emmy-award winner Jake Scott and the record is produced by Grammy-nominated producer Jayson DeZuzio of KIDinaKORNER.
Runaway Train 25 uses geolocation technology to turn the music video content into a search tool to find missing children. The video automatically updates itself with the profiles of missing children from the NCMEC database based on a viewer's location, which people can share across Twitter and other social media platforms.
"We know that it only takes one person to find a missing child. Last year, NCMEC assisted law enforcement with over 25,000 cases of missing children, the vast majority were runaways," said NCMEC President and CEO John Clark. "This video is a game changer. It highlights critical issues runaways face and will show real pictures of missing children. By creating and sharing this video, everyone has the ability to make a difference in their communities. It's truly incredible. This would not have been possible without the hard work and dedication of M/H VCCP and all of our amazing partners."
People can now visit runawaytrain25.com to view the dynamic music video. Runaway Train 25 asks people who visit the website to share the music video on Twitter and other social media channels using #MissingKids and #RunawayTrain25 to help publicize cases through their personal networks and change the search for missing children across the country. The site will have functionality to make it easier to find and report missing kids, such as pausing on the image of a child and reporting where they've been seen, in addition to allowing users to create and share a custom video for a missing loved one or someone missing from their community.
Digital billboards and transit screens nationwide will support the initiative using geo-targeted dynamic feeds to display photos of missing children by location. The donated ads will also drive users online to view and share the Runaway Train 25 music video.
Tell us about your role in the creation of this work.
Adam Ledbury, ACD Art Director, and one of the originators of the idea.
Kelsey Wilkins, ACD Copywriter, and was instrumental in the production of the campaign.
Give us an overview of the campaign, what is it about?
We've been referring to it as "the milk carton of the 21st century". The National Center for Missing & Exploited Children (NCMEC) is the organization that put faces on milk cartons. New milk cartons with photos of real missing kids were printed every week, and in almost every home in America. It was always relevant and always local.
Our mobile devices are even more ubiquitous – one in every hand rather than every home. We have the ability to update on the fly, meaning the information we serve is always pertinent.
25 years ago, Soul Asylum's "Runaway Train" music video featured images of actual missing children. For the 25th anniversary of the video, we created a new version of "Runaway Train" with modern artists, using new technology and social media: a video that updates itself with children from the NCMEC database, localized to a viewer's area. We are now able to get more children in front of more people in more relevant places, hopefully bringing more children to safety.
Tell us about the details creative brief, what did it ask?
There was no brief. The agency had recently enjoyed great success with Slavery Footprint, a website that calculated the number of slaves who worked for you based on the products and services you use every day. The campaign was one of the reasons we joined the agency, and we wanted to create something as impactful.
Which insight led to the creation of this piece of work?
Sitting in a cafe near North Beach, San Francisco, Soul Asylum's Runaway Train came on the playlist. My former partner, Guy, and I reminisced about the song, and then the video shot by Tony Kaye. Our minds turned to the fact it featured images of real missing children. A quick search revealed that the song was approaching its 25th anniversary, and over the years had helped to recover 21 of the 36 children featured. We were amazed that the film could find so many children, and asked ourselves how many children could a new version recover using the technology and social reach available to us today? Our social conscience is overflowing with messages of more charities to support, more donations to make, more causes to follow and more acts of goodwill. Charity, tragically, is in danger of becoming white noise. But issues in my state, in my town, in my community and in my family, will always be important to me. This, along with the fact that 61% of missing children are found in the state they went missing from makes the ability to geo-target especially important.
What was the greatest challenge that you and your team faced during development.
This was a project that relied on the talent and support of an army of partners. Assembling the team we needed to bring this to life was a project in itself, and I can't thank those involved enough.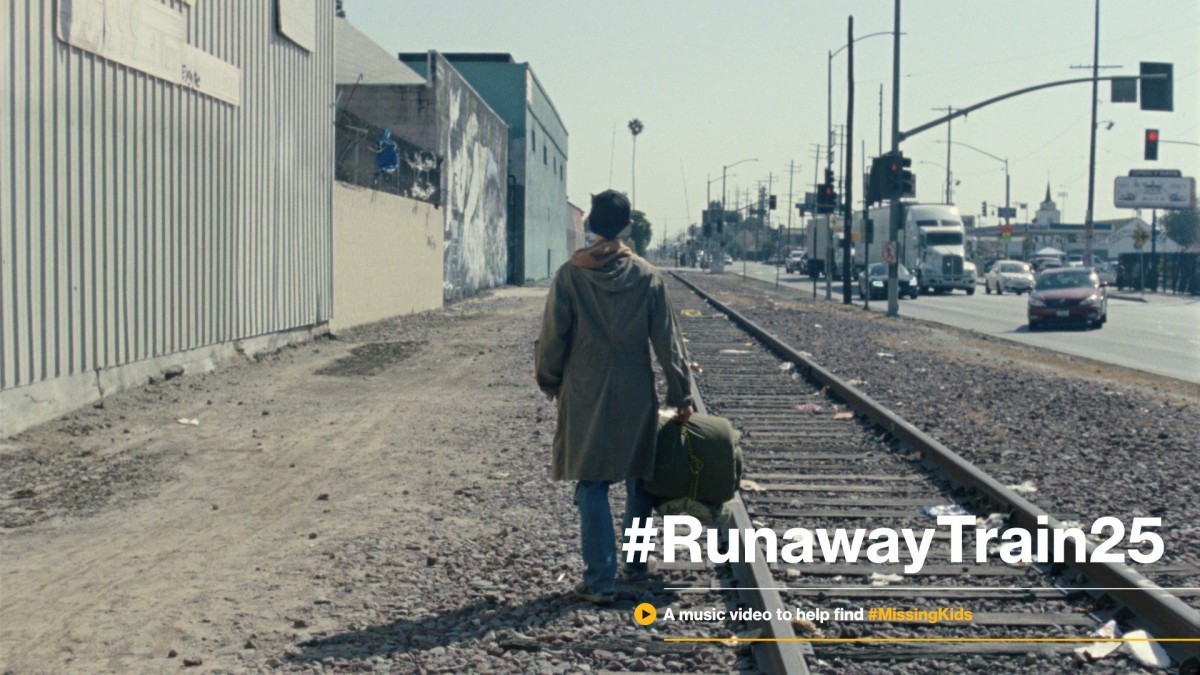 What did you enjoy most about seeing this campaign through? Did you learn anything new from the experience?
This campaign is potentially the most important piece of work we will ever produce. It has the ability to bring about positive change for the children and families affected by this issue.
Before we started work on this campaign, we could never have imagined the true scale of the issue, and the harrowing experiences that children and families go through on a daily basis. It's incredibly humbling to have the opportunity to create something that will have a positive impact on the work the National Center for Missing and Exploited Children.
Where do you see this campaign going in the future?
The music video was only the first way in. The technology that underpins this campaign is transferable, meaning that we now have a new tool to find missing children.