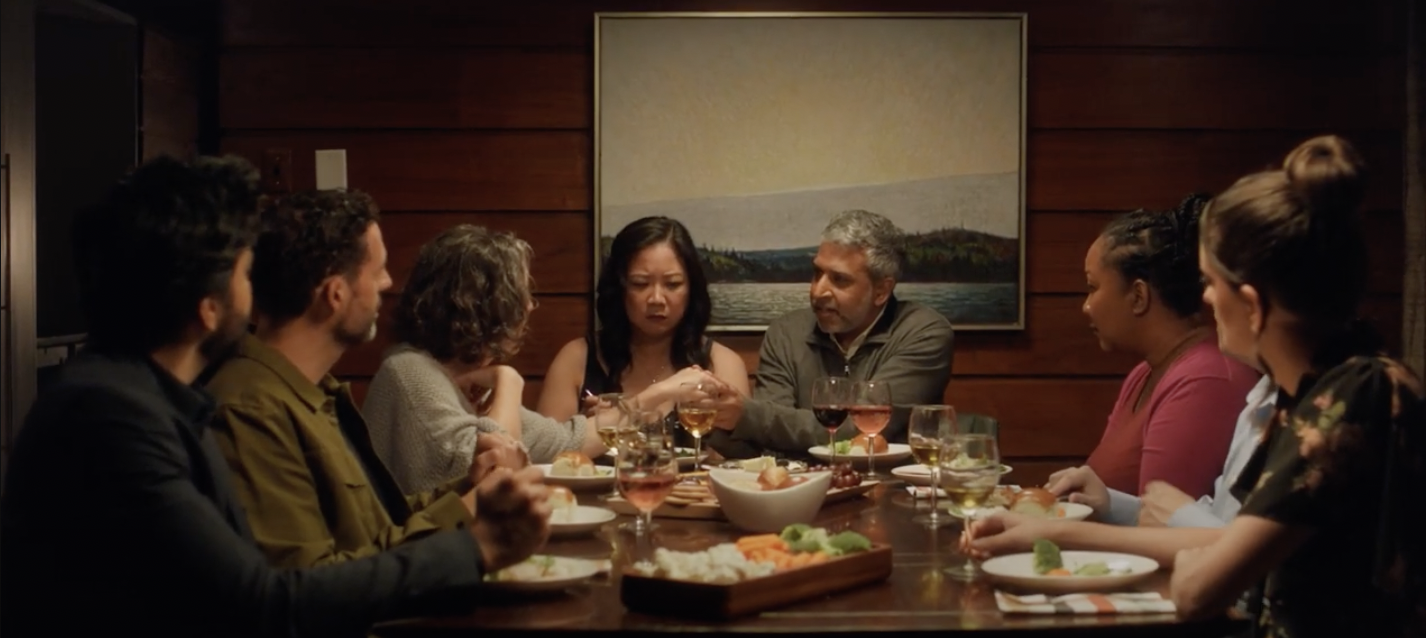 Agencies are obsessed with winning awards. Yet, funnily enough, the most award-winning work isn't usually the most well-known. If you asked your neighbour to name their favourite ad, they're more likely to name that hilarious new beer commercial than the latest Gold Lion winner in the Corporate Purpose category. So, what's more important: winning over awards judges or winning over consumers?
Zulu Alpha Kilo tackles this question in their hilarious new video, "Left-Handed Mango Chutney." Set at a dinner party among friends, the video opens on the host – a brain surgeon – captivating the table with one of his heroic stories. The conversation then shifts towards a copywriter named Greg. Intrigued by his job too, excited guests start grilling him with questions, like "Working on anything exciting?" and "anything I've seen?" Initially flattered by the attention, Greg proudly announces his latest project to the group: a case study for Left-Handed Mango Chutney.
Faced with blank stares, Greg is forced to explain that it was a limited-run piece celebrating National Left-Handers Day, made proactively for a small independent chutney company, and it was never sold in stores. Even when Greg brags about the case study and proudly lets them know "it also won Grand Prix," he's met with dead silence.
By satirizing this familiar scenario, Zulu is playfully reminding the industry that advertising's most important goal is to resonate with consumers first, and awards judges second.
"Left-Handed Mango Chutney" debuted at last night's Agency of the Year competition in Toronto. The annual awards show is hosted by strategy magazine, Canada's largest trade publication for the industry. As part of the show, the top agencies are invited to create their own self-promo videos about whatever subject they want. Zulu has often used these videos as a platform to push back against the industry's sacred cows. Last year's "Awards Gone Wild" video poked fun at the industry's awards obsession by showing what would happen if other professions resorted to these same tactics to win awards. One of the most well-known examples was the viral sensation "Say No to Spec", which started a movement against spec work in new business pitches and has garnered millions of views on YouTube and Facebook to date. Other comedic videos have included "World's Worst RFP," satirizing the RFP process, and "Billy's Lemonade," which lampooned holding companies, while celebrating agency independence. Like all previous Zulu videos, agency founder and CCO Zak Mroueh once again directed this year's video through the agency's in-house production arm, Zulubot. This is also his third consecutive collaboration with the creative team of Jonah Flynn and Michael Siegers.
Besides screening one of the most controversial videos of the night, Zulu Alpha Kilo also won Silver Agency of the year.